Finding Locations
You can find locations in the map explorer using a Place Name, Address, Postcode or Grid Reference. Enter the text you would like to search for in the text box and then click the magnifying glass or press the enter key to perform the search.
To change the search method, click on the text "Place Name" or the arrow next to it and the drop-down list will give you the search methods. For each method an example is displayed in the textbox.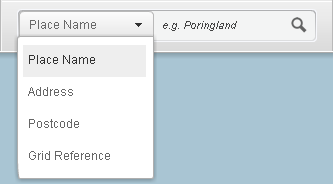 Searching by Place Name
Using the "Place Name" search allows you to search for the name of a city, town, village or house name. For example: 'Norwich', 'Kettlestone' or 'Bixley'.
Searching by Address
When searching for addresses you can use all or part of the address. For example: 'Bracondale Court', 'NR12AS,25', 'NR12AS' or 'Station Road, Hoveton'.
Searching by Postcode
When you search for a postcode the Map Explorer will show you the polygon that represents the postcode area. To find County Hall for example use 'NR12SG'.
Searching by grid reference
To search for a point on the map enter a British National Grid reference for example: '624010,307040'.