Navigating and Exploring Maps
Selecting a Map
When you start the Map Image Viewer you are presented with the Map Selector as shown below: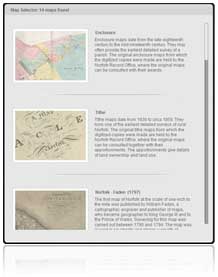 Select a map (by clicking it's image).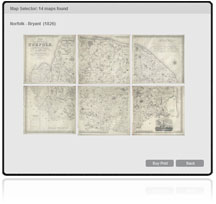 After selecting one of the available segments the Map Selector will dissapear and the chosen map segment will be displayed.
The Enclosure and Title maps have an additional drop-down-list at the top of the page to select the preferred map by area name. Simply select the area required from the drop-down-list and press the "GO" button to load the required map.
On the left of the page you will see four buttons displayed, a plus, minus, home and cross symbol.
To zoom-in press the the plus button or click the left mouse button (mouse wheel roll-up) or the + button on your keyboard.
To zoom-out press the minus button or hold the shift key and click the left mouse button or - on your keyboard.
To move a zoomed map use the arrow keys on your keyboard

click the left mouse button and drag the map in the direction you want to move it.

To goto the "home" position of the map press the home button icon.

To goto full-screen for the map press the cross symbol.